Dr. Laura Lakusta and Dr. Jennifer Bragger, professors in the Department of Psychology at Montclair State University and Co-Directors of the Servant Leadership Research lab, are the recipients of a three-year, $474,000 National Science Foundation award to study the cognitive and developmental antecedents of servant leadership.
Dr. Lakusta and Dr. Bragger will explore how experiences serving others and engaging in service-oriented leadership influence the development of a servant leadership style in part by collaborating with the Bonner Foundation as well as a variety of for-profit and not-for-profit organizations.
gothamCulture is supporting this research effort by collaborating with Boy Scouts of America (BSA). One of the fun projects to date was designing this research badge with graphic artist Kristin Mudd. This badge can be earned by scouts and adult leaders alike.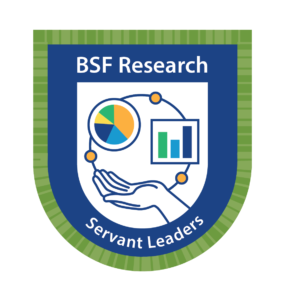 ✕
Culture Change is a Complex Process
Make sense of it with actionable advice from experts on the front lines.