It's been quite a journey. When Margaret Keane was working as a debt collector at Citibank for $5.50 an hour, she had no idea that she would someday become the second woman in history to run a bank valued at more than $20 billion.
After a 16-year career at Citi, Margaret was recruited by GE Capital. There, she rounded out her experience in a variety of roles, culminating in her appointment as CEO of GE Capital Retail Finance, which became Synchrony Financial. In 2014, she and her team were tasked with separating Synchrony from the GE umbrella and preparing to undergo one of the largest IPOs of the year.
In order to prepare for the separation from GE, the Synchrony team had an enormous number of regulatory and other requirements to comply with. They needed to hire for over 1000 new positions, many of whom were mid-level and senior leadership roles in key subject matter areas such as risk, tax and treasury in order to be stand-alone ready.
How do you effectively lead a spin-off from one of the most well known brands in the world in a highly regulated industry? How do you integrate a significant number of new employees rapidly without the wheels falling off? And what ramifications does this have on the culture of the organization? I spoke with Margaret to find out.
Putting Culture and Values First
As one might expect, separating a company from a force like GE is a challenge. After 124 years of business, the culture and values of the organization are deeply rooted, and have a significant impact on behavior. To ensure that Synchrony, which traces its roots to 1932, stepped out of GE's shadow and developed its own identity that best positioned it for success in the market, Margaret realized her team would have to be very intentional about how they planned and executed the transition.
With the assistance of several external advisors, the Synchrony team integrated some fundamental activities into the separation plan that one might not readily associate with banking regulation or to becoming a standalone company.
First and fundamentally, Synchrony needed to define their own independent identity. One that clearly spelled out a compelling purpose and values that took the best of GE's culture and help them be successful as a separate public company.
In order to help legacy employees make the transition to the new, stand-alone company, Margaret felt that it was imperative to actively engage all members of the team in articulating the core values of Synchrony. This process enabled both veteran and new employees a space to collaborate, understand the bigger picture and work together to identify what values would drive the behaviors they needed to succeed. For many leaders, this is often pushed down on the priority list only to regret it later on down the road. But for Margaret, this was a required cornerstone of the change process.
With the purpose and values in place, the team was then able to define the right types of people they would need to recruit to help navigate the separation from GE and to drive the business strategy moving forward. Since most of the new recruits were brought on because of their subject matter expertise, this meant recruiting from a pool of mid-career banking professionals who wouldn't take the choice to change jobs lightly. Using Synchrony's purpose and values as their "true north", the team set out to find the best talent possible while focusing on culture fit. Finding candidates with subject matter expertise was the easy part.
Finding candidates who could do the job and do it in a way that aligned with the developing culture of the organization was the true test.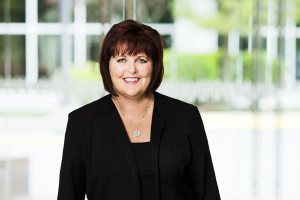 Margaret and her team were also very deliberate about the onboarding experience to ensure new hires integrated successfully into an environment of largely legacy GE employees. The company made sure every new employee had the tools they needed from day one. A buddy program comprised of volunteers was established to constructively support their onboarding, and the most effective buddies were rewarded and recognized for their good work.
By ensuring that new employees arrived at work supported and ready to immediately hit the ground running, Synchrony reinforces the notion that each new member of the team is valued and supported.
Lessons in Leading Large-Scale Change
Many organizations are challenged with transforming their businesses to adapt to changes in the internal and external operating environments. Many of these changes are significant, requiring members to question their fundamental ways of operating to remain competitive. For those leaders tasked with leading such large-scale changes, Margaret offers the following advice.
Get the foundation right first. "Getting clear and aligned around your purpose, values and culture are often tasks that slip down the priority list during transformations like Synchrony's. It is critical that leaders create the time and space for their teams to align around these core elements before getting too far down the path, or it may be too late," says Keane.
Asked what she would do differently if she had to do it all again, Margaret said she would have created even more space for her teams to come together to engage in alignment discussions and better understand how they supported through the transition.
Include people in the process. When embarking on a transformation that goes to the core of an organization, stakeholders must play an active role in the process. When they're included, team members are able to collaborate to make sense of the changes, help co-create the future, and better understand how they fit into the bigger picture.
Don't throw the baby out with the bathwater. When separating from another organization, some leaders may feel a need to completely distance their organizational identity. This isn't necessarily beneficial. The Synchrony team understood that many fundamental ways of working at GE would continue to serve Synchrony well in its next chapter. Those were identified and carried forward.
It takes commitment. When navigating complex organizational change, leaders may want to find silver bullet solutions. Unfortunately, these types of large-scale transformations don't come with shortcuts. This process takes time and leaders must create enough safe space for their employees to actively participate and process the changes for themselves.
As Synchrony embarks on the next chapter, Margaret is clear that she intends to continue to drive improvements that align with their purpose and core values. Leveraging the best aspects of the organization's past while taking an honest look at what may need to evolve in order to be a leader in the industry has enabled the team at Synchrony to quickly adapt through the separation and IPO.
Her story certainly serves as inspiration for every leader who faces the daunting challenge of navigating their organization through large-scale change.
This article originally appeared on Forbes.
✕
Culture Change is a Complex Process
Make sense of it with actionable advice from experts on the front lines.

Latest posts by Chris Cancialosi
(see all)